The last of the four 'rural archetypes' I identified for my recent guided-tour of Norfolk was the farmstead – or perhaps, more generally, a relatively dense rectilinear grouping of buildings; the wider definition allows this archetype to be represented also by work-houses, groups of alms-houses and even less frequently (in Norfolk at least) industrial facilities such as maltings.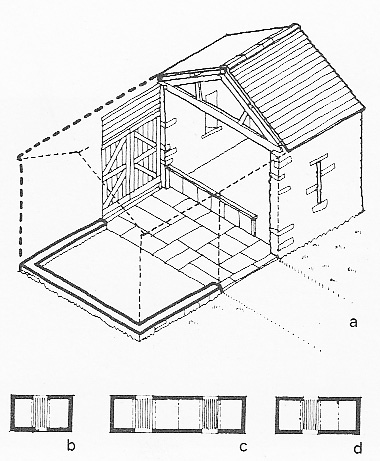 Norfolk farmsteads usually comprise a farm-house, barn and assorted other stable/storage buildings grouped more or less tightly around a central yard. The barn, commonly misunderstood to be a storage building, is more properly thought of as a grain-processing facility, with the covered central bay serving as a drop-off/pick-up bay for cart and horse, and also as a threshing-floor. A good description of its function is given in RW Brunskill's 'Vernacular Architecture; An Illustrated Handbook': (barn)
Brunskill also describes how the enclosure of common grazing land often generated a new farmstead, or even a small cluster of farmsteads (farmsteads), which could 'seed' the formation of a new settlement. It is certainly not uncommon in Norfolk to find one or more farmsteads forming part of a village, characteristically presenting a long blank wall (the side of a barn or stables) directly onto the street. In a previous post I cited Frettenham as an example of this sort of 'non-nucleated village', and it does seem to have grown up around two farms (see below).
More on Norfolk's DNA: Norfolk 'Stuff'
More on Contemporary 'Farmsteads'