If the contemporary 'farmstead' described in the last 'Farmstead' post was a bit too literal, I thought this next one might be the antidote: a project by MacCreanor Lavington published nearly ten years ago which must have made quite an impression on me, because it's been lying there in my mental lumber-room ever since.
These rows of terraced houses at Langerak in the Netherlands hunker down under their big tiled roofs and certainly there is something more than a little barn-like about them. In fact the roofs aren't pitched; they're a sort of mansarded mono-pitch with a hipped gable – but you get the point.

Based originally in London and Rotterdam, McCreanor Lavington were one of the trail-blazers in British architecture's fascination with modern Dutch housing, which has a striking historical parallel with the interest shown in the British 'Garden City' movement by Dutch and German architects almost exactly a hundred years previously. In the early C20th, before the rise of the Modern Movement proper, the continent looked enviously at the civility and amenity of the new city planning devised by Parker and Unwin, but a century later the influence is in the other direction.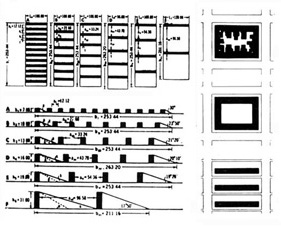 In spite of any resonances it may have, intentionally or otherwise, with the rural vernacular of East Anglia, Langerak is clearly urban in its conception and owes more to the Modern Movement than to Garden City suburban planning. The terraced houses are laid out in a series of south-facing rows which call to mind Walter Gropius's seminal 1931 studies on the spacing of rows of apartment buildings for maximum light and air.
Gropius contrasted these orientation-driven layouts with traditional perimeter-block planning, seen as inefficient and unsanitary. That dichotomy (should buildings face each other across a street, front-to-front, back-to-back, or should they all face south) is still entrenched in contemporary residential design…and I will have more to say about it later. (More big roofs here)