What would one have to do to Center Parcs Elveden to turn it into a 'real' village? Well for the purposes of this thought-experiment the aim would be to change as little as possible, preserving the essential quality which could make it such an attractive and unusual place to live.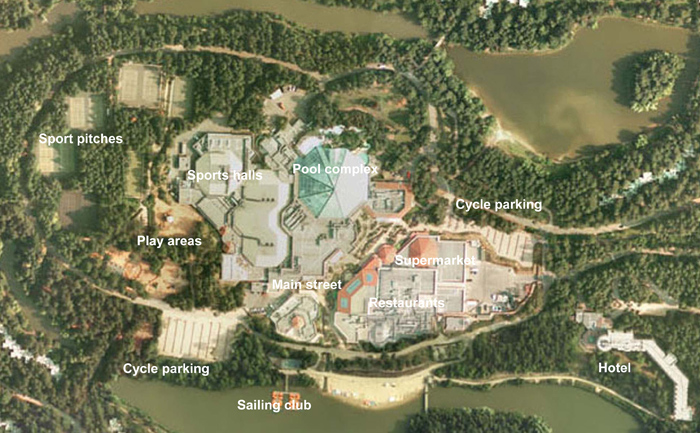 The 'Village Centre' at Center Parcs Elveden

First off, most of the leisure facilities of the 'village centre' would have to be replaced by community facilities – a primary school, a convenience store and one or two other small shops, a medical centre, a café perhaps and a community hall. Some of the outdoor sports pitches would remain, for dual use by the school and village, and perhaps there is room in a new village like this for a sports club with a small pool. The lake with its artificial beach and dinghy-club remains, and the village with its cycle-paths and forest walks will be an attractive place for walkers and joggers visitors to visit at the weekend.
The remaining space in the village centre is taken up with terraced houses and apartments suitable for older residents and young people; two small residential towers are shown, giving some amazing views into and over the treetops. The townhouses and apartment helps to raise the overall density of the village, allowing the forest 'suburb' to retain its essential character of houses set in a continuous forest.
Next post: Forest Village #7 – The 'Suburbs'
Below: The village centre re-imagined