In the last post we imagined re-developing Elveden Center Parcs' central area to serve as a new centre for our imaginary Forest Village, but the real essence of Center Parcs (and in turn Forest Village) lies away from the centre: the 'villas in the forest'. Preserving the character of this forest 'suburb' is essential in our hypothetical retro-fit. What do we have to work with?
Elveden's holiday villas are rather ingenious. 'Villa' is obviously a misnomer – these are actually single-storey terraced houses – but the serrated footprint of the terrace gives spatial clarity at the entrances, and surprisingly secluded patios to the rear, all without any private gardens or fences. This is a unique feature of the Centre Parcs format that the hypothetical retro-fit seeks to preserve; there are no gardens in the conventional sense – just the forest.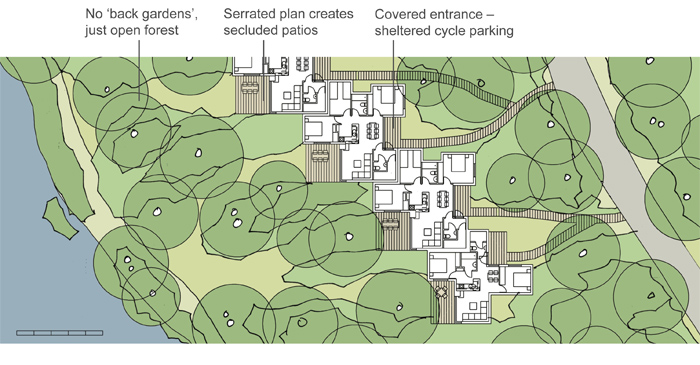 One could easily imagine the existing 'villas' becoming family homes in our retro-fit without any modification, but I couldn't resist sketching out some new types. They are terraced and keep a serrated plan form, but the patio is now enclosed, giving a small fully private courtyard. The living room is arranged to open onto this courtyard, but it also has views directly out into the forest – in hope and expectation of that 'Muntjac moment'! We have also imagined occasional two-storey elements which could also give access to roof terraces.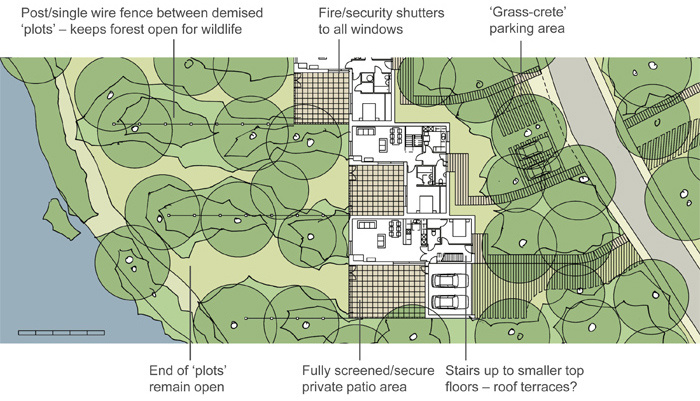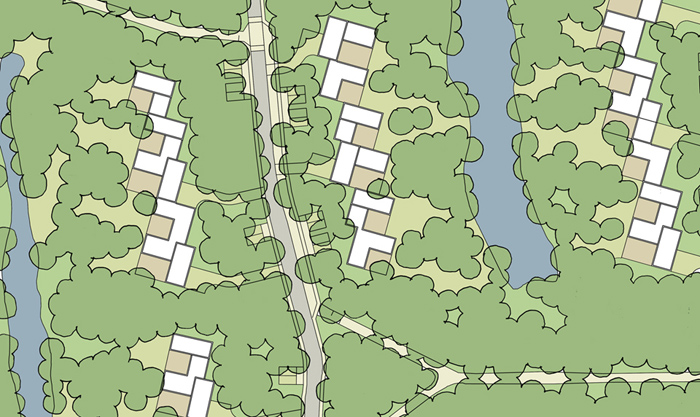 And what would these new forest-homes look like? The flat-roofed villas at Elveden are developed from original designs by celebrated Dutch modernist Jaap Bakema. (There's a good history here). Architects will love them, but CenterParcs have evidently been swayed by more popular taste; the latest additions to Elveden are clearly in log-cabin mode. But when I was developing these ideas I had Conran&Partners' Niki Club Hotel in mind!
Next post: Forest Village #8 – What's The Catch?
Below: Conran&Partners' Nikki Club Hotel near Nasu, Japan