The Stable Acre house also put me in mind of my third 'rural archetype' (see previous post) – the wide-fronted house. Stable Yard isn't really an exemplar of the type, but it does display two of its main characteristics – it is essentially one room deep, and has its long axis parallel to the street.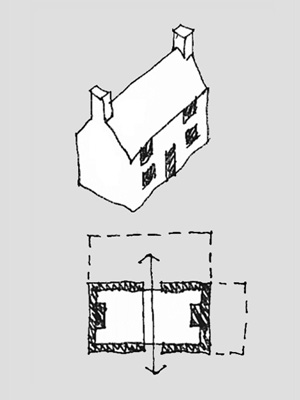 The wide-fronted house I've shown in my doodle here, is the classic two-storey 'farmhouse' – two rooms wide, one room deep, with a centrally placed front door and a chimney on each gable. This basic format is very widely distributed across the country, including Norfolk, and is probably an C18th/19th evolution of a much older type. In 'Houses and Cottages of Britain', R. W. Brunskill describes how most mediaeval timber-framed 'hall houses' eventually had their central double-height halls filled in, with a brick chimney stack and new first floor inserted to create more living space. (hall-house)
Later, newly built timber framed or brick houses adopted this 'one-room-deep' format, either with three ground floor rooms, like the grand converted hall houses they were emulating, or somewhat more modestly with only two rooms on each level. (2-3-unit-house
These original one-room-deep houses were often extended. A two-unit house sometimes became a three-unit house, by extension parallel to the street, and both two and three-unit versions were often extended back from the street at the rear, either on the ground floor only, or at first floor too.

This house in a small south-Norfolk village displays many of these features. The original timber-framed house appears to have been a three-unit plan, very similar to the drawing from Brunskill (link above). The house was later faced in brick, as was the fashion in East Anglia as brick became more widely affordable; the edge of  the brick 'veneer' is clearly visible on the gable. Single-storey extensions to the rear have increased the floor-space significantly over the years, one of which added a generous straight-flight stair, replacing the original one, which was probably small, steep and winding.
More on Norfolk's DNA: The Farmstead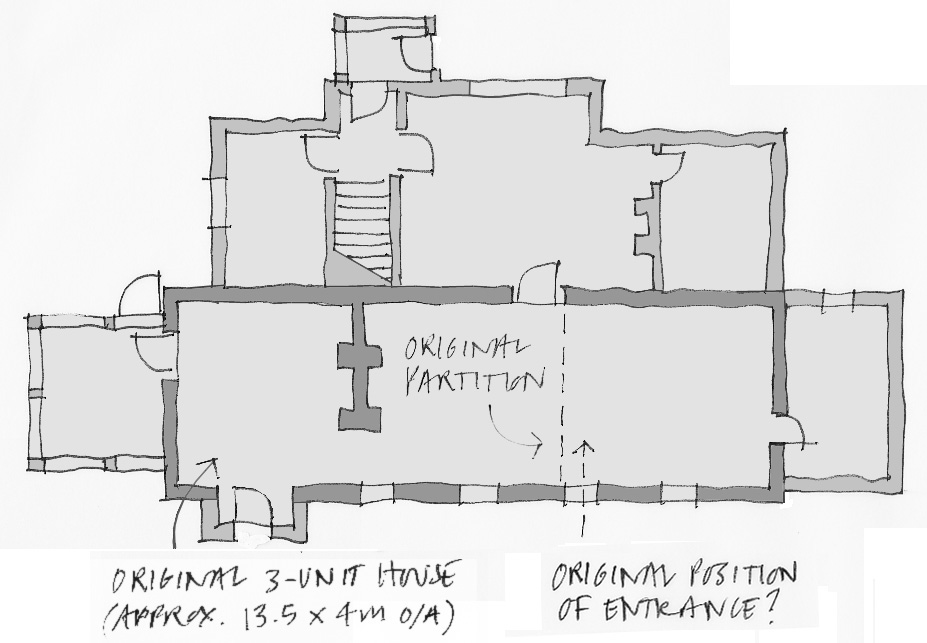 The wide-fronted house is a very important part of the 'DNA' of rural Norfolk. I will describe in later posts how it formed a key part of late C19th and early C20th efforts to improve the quality of rural housing, and also suggest why it is perhaps set for a come-back.