I've followed with interest, on Twitter and elsewhere, Grant Shapps' thoughts on the Natural House, the Prince's Foundation show-home which he unveiled recently at the Building Research Establishment in Watford. It culminated in a proclamation this week from the GLG that 'eco-homes' do not have to be 'Scandinavian-style, 'eco-bling' properties that wear their green credentials for all to see…I am clear (says Shapps) that the beginning of zero carbon does not need to mean the end of Great British design'.
I imagine Shapps has flagship projects promoted by the previous administration in mind – Sheppard Robsons much-lauded 'Lighthouse' perhaps, or Richard Rogers ill-fated project at Oxley Park in Milton Keynes. But I think even at the time they were published, three or four years ago now, many were sceptical that this was a glimpse of the future.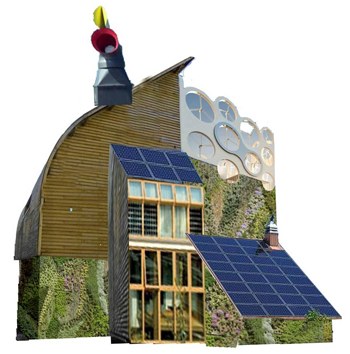 In a talk on housing design I gave at the last Festival of Architecture for Norwich and Norfolk back in 2009, I poked fun at the latest crop of eco-bling houses through a 'photo-fit' of the usual suspects I dubbed Frankenstein's Eco House (left), and contrasted it with an image of a traditional-looking stone-clad house in Chewton Mendip which its developer described as Code 6-ready (i.e. was only lacking a cost-effective renewable energy solution for it to comply with the highest level of the Code for Sustainable Homes).
The general drift of Shapps statement seems to be that modern/contemporary design is foreign (specifically Scandinavian?!) and unpopular, and that the 'Great British design' it threatened for a time to usurp, in the name of sustainability, is probably traditional in character. But I think this presents a false dichotomy between extreme 'architect-Modern' and the 'Barratt house' status quo. I touched on this in a previous post, back in January, and mentioned Hus22, the Conran&Partners/Lucas Hickman Smith project I led for Abel Homes, in Drayton near Norwich – which I was describing as a 'new normal' project as long ago as 2008.
The eco-house is dead; long live the eco-house!
Read about another unusually 'normal' project here
Ed Hollis on special/normal buildings here.
Below: Hus22, Drayton – part of a 'New Normal' in housing design?