If Crown Paddock serves as a rather literal exemplar of the 'farmstead' (one of my four rural archetypes), how about this from Dutch architects Atelier Pro, in a proposal for new development around Norwich Research Park led by Norwich-based development consultants Lanpro?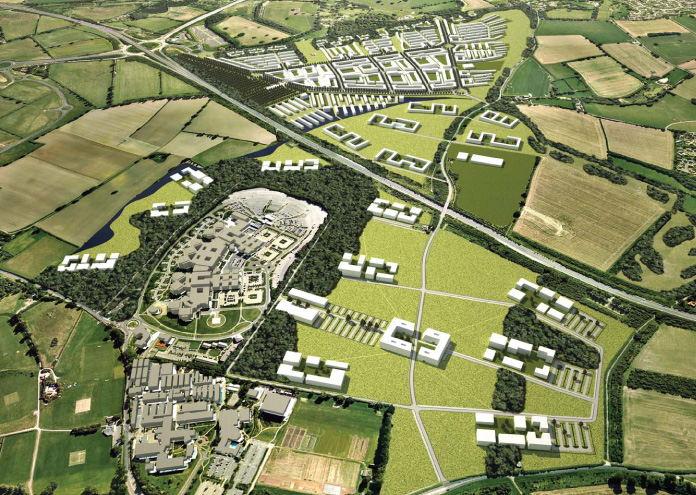 The master-plan includes a new settlement (in the background of this view) which has reducing density from centre to edge, and beyond that a series of dense rectilinear blocks peppered across the landscape, certainly evoking traditional farmsteads. Their scale is very different however, so this is not a literal translation – indeed I understand the architects have described these rectilinear blocks variously as 'castles', 'chambers' and even 'ships'.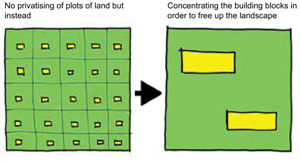 Atelier Pro's diagram explains the idea – avoiding suburbanisation of the landscape by extensive low-density development. I find that idea quite appealing, but I also find there's something quite alien about the way the idea is developed, specifically the way the landscape in between these super-scaled 'farmsteads' is re-imagined as an abstract, open territory – a 'meadow' as Atelier Pro put it. The visuals reinforce this idea…and somehow it no longer looks like Norfolk, which is generally made up of 'closed' fields. That said, it's still an unusually creative and challenging proposal by local standards; if only all land-promoters took design so seriously!
More on 'Contemporary Farmsteads' here.