As I said in a previous post, the 'sustainablility' logic behind the planners' preference for large-scale development, centred on a limited number of highly serviced, highly accessible centres, is lost on most 'normal' people. It seems only common sense to 'spread out' new development across all of a region's towns and villages. The Community Right to Build might seem like the way to achieve this…so it is natural to ask: 'How many new homes could the Community Right to Build deliver?'
I've had a go at some approximate numbers for my area – South Norfolk – based on a list of South Norfolk parishes from the South Norfolk Yearbook 2009/10. The CLG announcements so far seem to imply that larger rural settlements – i.e. market towns – would be not be included in the Community Right to Build, and that settlements would not be allowed to grow by more than 10% in a 10-year period.
In South Norfolk, only three parishes (Wymondham, Costessy and Diss) have over 3,000 households. Diss (3,700 homes) is most definitely a town, and then there's a noticeable drop down to Hethersett (2,500 homes) which most people would regard as a village. A large number of parishes have between 2,500 and 1,000 homes, with a noticeable bunching around the 1,000 mark. Below that there's a drop to the remaining smaller parishes of 750 homes and fewer. In South Norfolk then, one can identify a group of larger parishes between 2,500 and 1,000 homes, and smaller parishes each with fewer than 750 homes.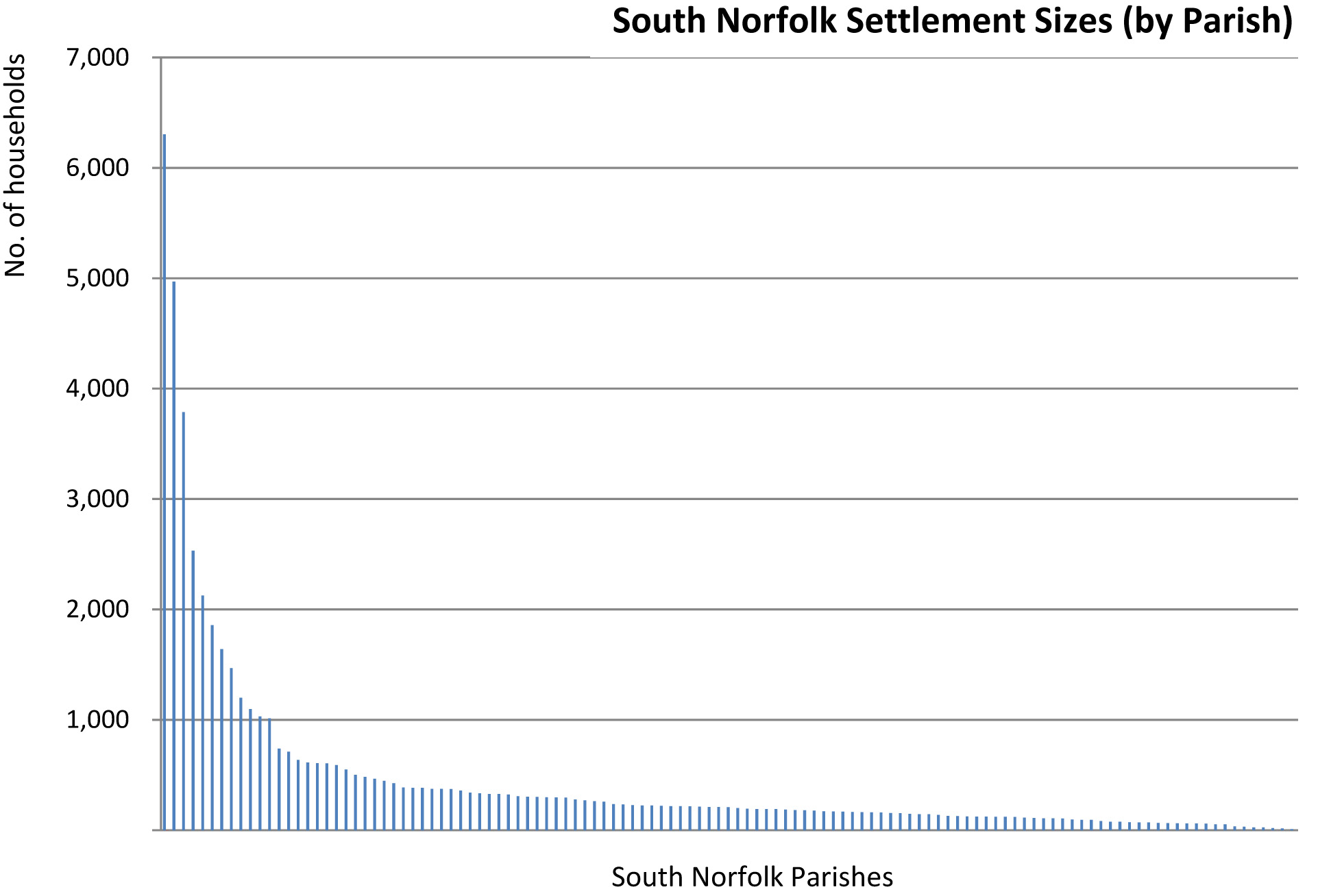 These small and large parishes together contain around 38,000 of South Norfolk's 53,000 homes. If all of them were to grow by 10% they would yield 3,800 units in the ten-year period. If only the smaller parishes (containing between them 24,000 homes) qualified for CRTB, they could yield up to 2,400 homes. You will notice I have referred thus far to parishes not villages. South Norfolk's Planning Policy Team could only furnish me with data at the level of the parish, not individual settlements. It seems to me that each village contains a very high proportion of the homes in each parish – perhaps 90% (can anyone give me a better steer?) – so these totals would have to be reduced a bit…let's say to 3,500 or 2,200.
Most people I have spoken to still think it will be almost impossible to get any CRTB schemes off the ground, even with the threshold of support reduced to 75%, but in South Norfolk its theoretical maximum is around 3,500. My gut feeling is that 1,000 new homes might be a more realistic upper figure – and that might be wildly optimistic. To put that in context, the emerging Local Development Framework (the new Local Plan) suggests South Norfolk will have to find space for 10,000 new homes in the period to 2026.
The Community Right to Build may be a big challenge to the planning status quo…but it's definitely not the solution to the housing crisis!