When Tayler and Green arrived at the Architectural Association in 1929 the writings of le Corbusier and other continental modernists were well known in Britain, but there were hardly any buildings in the country which demonstrated the flat-roofed planar aesthetic of the emerging International Style. By the time they graduated in 1934 a handful of influential modern houses had been completed, mostly by European émigrés, and the young Tayler and Green soon had the opportunity to make their own contribution to this collection.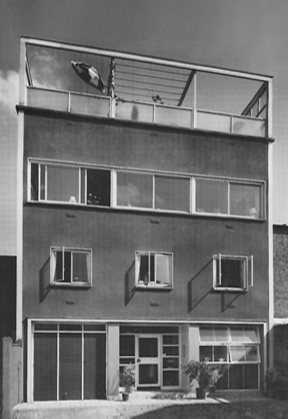 In 1937 they were commissioned by an AA class-mate's brother to design a house and studio for him at Kings Head Yard in Highgate. The completed project was very well received by the architectural press, which positioned it in a trilogy of Modernist houses alongside Willow Road Hampstead by Ernö Goldfinger and Newton Road Paddington by Denys Lasdun. The house had many classic modernist features – flowing, open-plan living spaces, 'ribbon' windows, a large roof terrace – but Tayler and Green were also pragmatic, eschewing fashionable concrete construction in favour of cheaper lime-rendered brickwork, and timber windows instead of steel for reduced weight, ease of maintenance and (according to Tayler) 'a more human appearance'.
This success of Dukes Head Yard brought Tayler and Green new clients including electrical-appliance retailer Godfrey Imhoff who commissioned them to design a house for him in Kingston near London. Although separated from the design of Kings Head Yard by only a few years, the Imhoff House marks an important departure by Tayler and Green from flat-roofed French and German Modernism, towards a rather softer 'Scandinavian' approach, typified by the domestic projects of Erik Gunnar Asplund and Sven Markelius in Sweden during the late 1930s.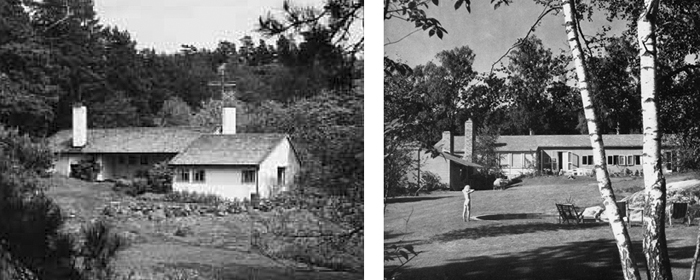 Above: Asplund's house at Stennäs and the Markelius house at Kevinge.
Below: The Imhoff House, Kingston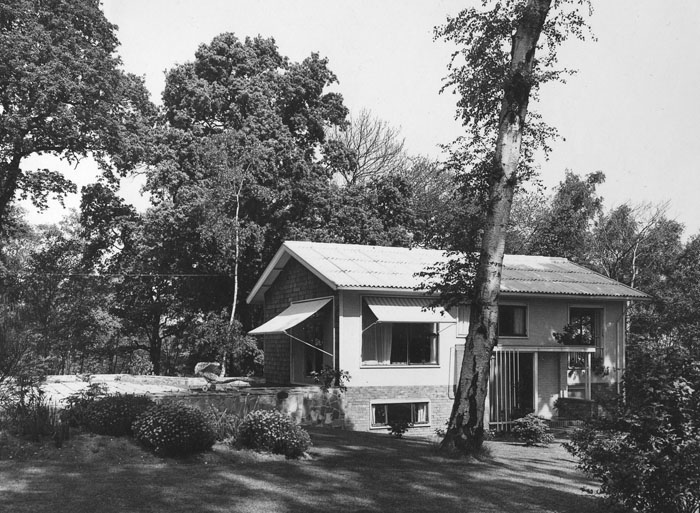 The Scandinavian Style found only brief favour with the British architectural establishment, during the years in which the country was pre-occupied by war and its immediate aftermath. When urban slum-clearance and post-War reconstruction began in earnest in Britain in the early 1950s it was led by a new generation of English architects, younger than Tayler and Green, who sought to recapture the aesthetic energy and social fervour of 1920s European modernism, inspired largely by the later work of le Corbusier. By then, Tayler and Green had already left London and spent ten years developing an architectural approach that was easy to dismiss as old-fashioned 'Scando' by the angry young men of the New Brutalism.
Next Post: Tayler & Green #4 – Coming Home