Loddon Council's most pressing need, reflected in its initial briefings to Tayler and Green, was for family homes (one four-bed house for every seven three-beds), but very soon the Council introduced single-storey two-bed units into the mix, for older residents. The single-storey homes proved very popular and the target mix settled down to include one bungalow to every three houses. This mix of one- and two-storey homes greatly assisted the rather picturesque approach to site planning which Tayler and Green favoured, especially on their smaller schemes.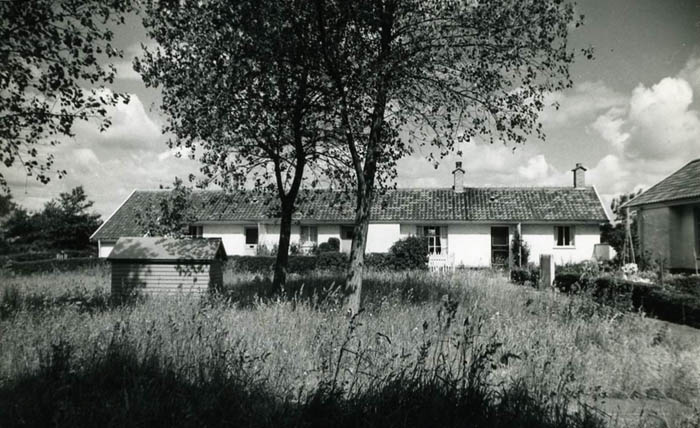 Above: Kells Acre, Geldeston
Below: Davy Place, Loddon (Photo: Jim Stephenson, Click-Click Jim)
On a number of sites, where older-people's accommodation was the priority, the brief specified only bungalows. Agnes Hood Terrace in Ditchingham was an early example – a long gently bowed terrace facing onto the street across a widened verge – but during the late 1950's Tayler and Green developed a new format for single-storey sites. Parallel terraces of bungalows run at right angles to the street, separated from each other by back-to-back gardens to the rear and a pedestrian-only access way to the front. The gardens are given privacy from the street by a linking wall between the ends of each pair of terraces. At Davy Place in Loddon, Scudamore Place in Ditchingham (opposite St Agnes Hood Terrace) and Churchill Place in Brooke, the layout includes a two-storey warden's house and community room.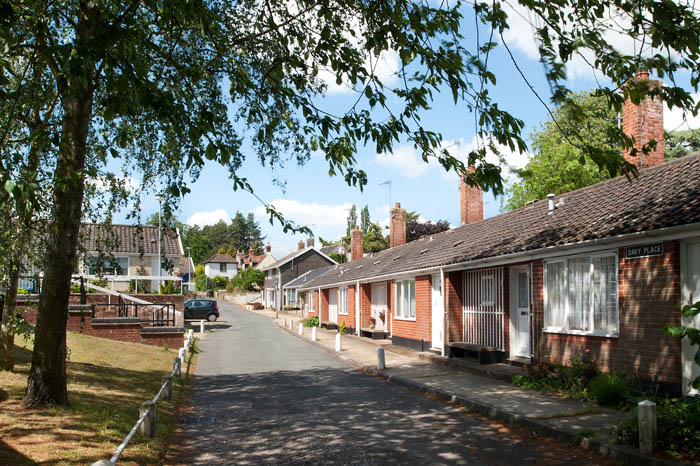 Over thirty years working for Loddon Tayler and Green developed over sixty house-types, but the majority were never used and many more were variants on a basic type – often to do with making sure living rooms faced south. There was a reliance on a limited number of well-developed plans (such as the trusty wide-fronted Type 2 developed for Windmill Green), with variety added through their combination according to the exact brief and topography of each site, and the use of details such as the paint colours, brick-patterns, bargeboards, fences and trellises. These variables were all set out on a master drawing for each project – a matrix giving individual details for the specification of each house, which Tayler likened to a 'big musical score'.
Implementing their designs efficiently on site was no doubt made easier by the fact that Tayler and Green worked with a limited number of contractors, who got to know their way of building very well – under the supervision of David Green, who spent more time on site than Tayler. Harvey and Leech of Kirby Cane and Thirtle and Harris of Thurton both built many projects for Tayler and Green, with smaller schemes going to J Moore (Norwich), W Ames (Great Yarmouth) and HJ Crane (Sprowston).
A committed and trusting client; a limited palette of well-tested house-types and construction details; a small rosta of builders – Tayler and Green could have served as a useful model for Sir John Egan's 1998 review of the UK construction industry, 'Rethinking Construction'.