As I explained in a previous post Stewart Brand in his excellent book 'How Buildings Learn' makes a distinction between 'high road' or special buildings and 'low road' or normal, everyday buildings. I also noted that the vast majority of what we see in the Norfolk landscape are in the latter class; they are the cottages, farmhouses and agricultural buildings which punctuate the matrix of fields, hedgerows and copses and even account for most of the pre C20th fabric of most small settlements. These are workaday buildings made for the most part of the 'stuff' that grows on or is scraped out of the earth. The last two posts, on Norfolk 'stuff', focussed on these architecturally modest buildings (primarily because the main thesis of Ruralise is that this is where architects 'must try harder'), but it would seem remiss not to briefly describe Norfolk's 'high-road' heritage.
The most obvious class of high-road buildings in Norfolk are its churches. Before the mechanisation of farming the rural county was much more populous than it is now, and often an isolated church is all that remains of a settlement that has long since vanished – as we saw at Frettenham. A distinctive feature of churches across the county is the round tower, a pragmatic response to the shortage of good stone to form quoins at the corners of a more traditional square tower. (More here, if you're interested)
The big houses of the landed-classes and nobility – manor houses and stately homes – are liberally sprinkled through the landscape, but ast they are often set back from the road they are not as visible as the county's churches. 'Big houses' include ancient timber buildings re-clad in expensive brick – often with Dutch-inspire motifs – Georgian and Victorian neo-classical 'second homes' for the aristocracy, wealthy industrialists and other nouveaux riches, and more modest Victorian and Edwardian rectories. The Victorians made a bigger impact on the rural landscape with village schools, in characteristic mildy gothic style, plus the occasional workhouse, railway station and gatehouse.
The more generous budget for these 'special' buildings allowed their makers to look farther afield for construction materials. The Normans set the precedent, importing the gleaming honey-coloured limestone for their grandest churches and castles from Caen in Normandy, and other church builders and country-house architects imported stone from Leicestershire and further afield. On other buildings, local materials like brick and especially flint are made special by more-careful preparation (gauging or rubbing for brick, square or face-dressing for flint) and decorative combinations – moulded brick architraves, patterned brickwork, flint-chip 'galletting', carved stone with flint inlay and all manner of decorative painted timber barge-boards, finials and lead-work.
I will come back to 'low-road' buildings soon, but for my next post I'll stick with the special stuff – and talk about Matthew Rices's book 'Building Norfolk'.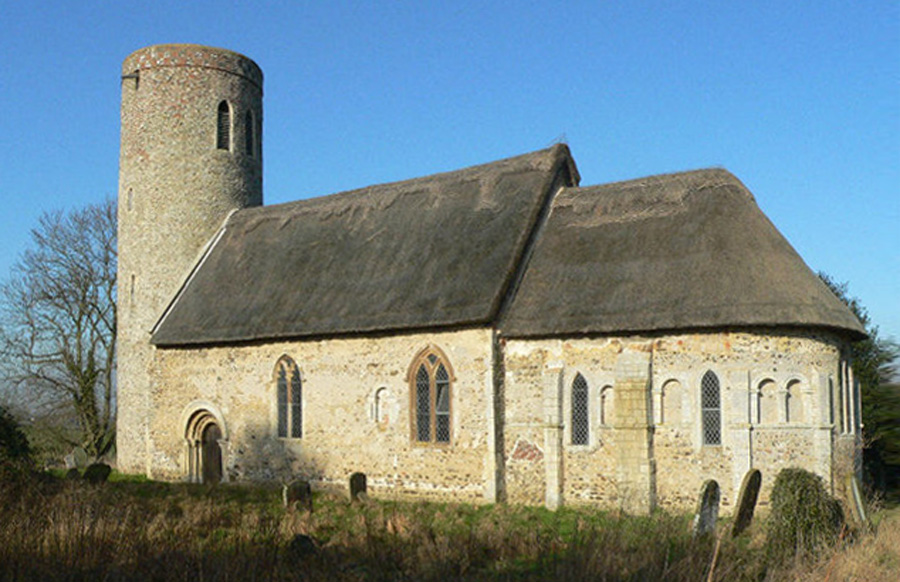 Thanks to Bernd Jatzwauk for this 'Creative Commons' pic of Hales Church.