After the early acclaim for Kings Head Yard, the real world intruded rapidly on Tayler and Green's career. In 1941 they left London for Norfolk so David Green could help his father's practice with reconstruction work after early bombing raids on Yarmouth and Lowestoft. Green's father died shortly after the move and Green took up his share of the business which was re-structured as Tayler and Green Architects in 1943. One air-raid left Herbert Tayler trapped under rubble with two broken legs, after which they left Lowestoft for the relative safety of a caravan in the grounds of Ditchingham Hall. But the War also created opportunities.
In 1943 The Ministry of Agriculture and the Ministry of War Production announced a programme of house-building in rural areas to help the war effort, and Tayler and Green were appointed by Lothingland Rural District Council to design four houses at Blundeston and two at Wrentham. Semi-detached houses were the norm for council housing in the inter-war period and the Ministry's standard house-types suggested 'pairs' – 'as if we were serving out kippers!' noted Tayler. The semi-detached house had earned the scorn of the architectural profession during the thirties, and most thought the terrace a more edifying precedent for mass housing.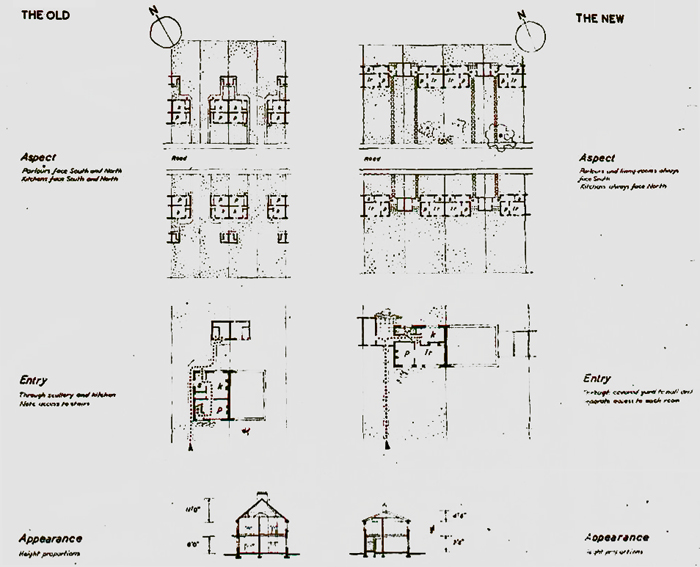 Tayler and Green proposed a wider frontage to get away from the front and rear 'parlour' of the typical suburban semi, and whilst they could not yet go against the Ministry's preference for 'pairs' ('we had to obey or be shot, this being war'!) they did at least propose the linking of pairs with a single-storey utility-block containing the garden store and wash-house. They also proposed reduced roof-pitch for more efficient construction and reduced impact in the landscape, and plan-variants which ensured the kitchen always faced north, to maximise sunlight into the remaining living spaces.
Tayler and Green's development of the Ministry's standard types was well received, and the completed schemes at Blundeston and Wrentham were widely publicised, bringing Tayler and Green closer to a commission which would set the course for the rest of their career.
Above: Tayler and Green's diagram explaining their improvements to standard 'semis'
Below: The houses at Blundeston, which greatly impressed the Ministry – and the Housing Committee of Loddon Rural District Council…